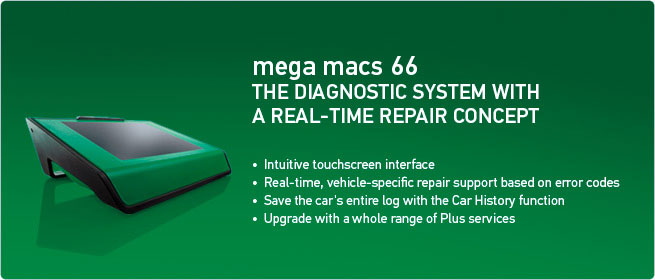 Overview
New design, new technology and a completely new repair concept. This is the new mega macs 66. The new intuitive touch screen interface enables necessary diagnostic work, procedures, measurements and comparison of data in real time – without spending valuable time.
Hence, professional workshops even tackle the trickiest repair work cost and time-saving. This means more time and more benefit and – above all – more satisfied customers.
Application
Real-time repair concept
The compact and solid tester of the latest generation convinces with its intuitive touch screen interface with the well-known menu structure.
Mega macs 66 gives specialists direct access to one of the largest databases in the world.
Mega macs 66 delivers fault-code based repair tips in real time. The large display indicates the most common vehicle-specific reasons, repair ways and background information to all fault codes read out. Together with colored interactive wiring diagrams mega macs 66 hence presents the first real-time repair concept.
The digital compression measurement in no time delivers information on the mechanical status of the engine and thus saves valuable time.
Interactive circuit diagrams deliver many information. Simply click on the clear graphics and get for instance all important parameters of the prevailing component in real time. Hence repair work becomes more reliable and faster.
Extra hardware slots ensure the correct operation of future functions available for the basic tool.
Mega macs 66 identifies vehicles through the VIN and delivers concrete notes for the position of diagnostic ports, components and all working steps.
All read-out fault code protocols as well as any work done are saved in the Car History archive for the complete data set, for customer loyalty and for the redirection to the technical center of Hella Gutmann.
The direct connection to the spare parts catalog significantly shortens the time for the order of parts and accessories. Furthermore, the vehicle identification with VIN code prevents unnecessary ordering errors and duplicate orders which in turn saves time and money.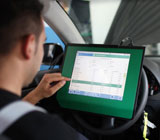 Survey of applications*
Intuitive touch screen interface
Expandable
hardware slots for additional functions
Reading/deleting fault codes of all ECUs
Fault code explanation with detailed information
Vehicle-specific repair assistance based on fault codes in real time
Actuator tests
Parameter depiction and explanation of up to 16 parameters simultaneously
Interactive colored circuit diagrams with current depictions of actual values and parameters
Diagnostics of all components with connecting instructions
2-channel oscilloscope with a measuring range of 10 µs to 200 sec.
Inspection plans
Troubleshooting plans
Automatic evaluation of measured signals
Images of engine compartments and interior with component position
Car History for saving the complete car service life
Direct connection to parts catalogs for accessories and spare parts
Air macs base for wireless PC communication
*depending on equipment and licence type (HGS Plus)
Technical Data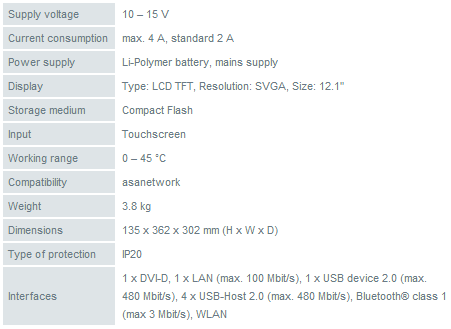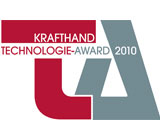 Delivery contents
Mega Macs 66 with touch screen and new diagnostic software, battery pack, mains supply, diagnostic module (DT 66), ST2 with OBD/CARB adapter, air macs base.
Pricing/Availability
German Automotive Tools offers a 10% cash discount on Mega Macs purchases, or 36 month, 0% interest financing.  Contact us to learn more about our affordable options.