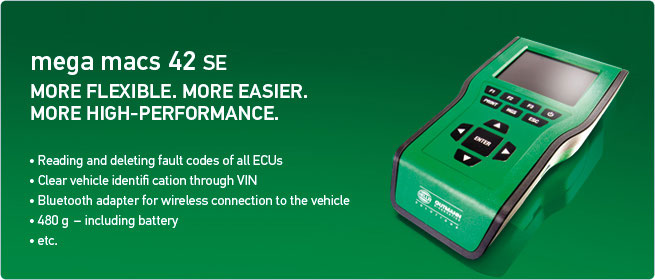 Overview
Throughout the further development of the successful mega macs 42 we have been adding some extras making your work faster and more flexible. We hereby have excluded all things that make work needlessly complicated. The new mega macs 42 SE therefore weighs just 480 g including the quick release battery but nevertheless contains more than 40 makes and more than 35,000 models. At the same time it offers the maximum scope of inspection.
With the mega macs 42 SE you can read out every ECU and system in the vehicle. The so ware helps you localize the causes of troubles and indicates connections and components. Specialized service workshops and those servicing numerous brands have a practicable tool with mega macs 42 SE.
Application
Fast receptions and evaluations of vehicles in the car dealership, reliable diagnoses and assistance in repair work –with the mega macs 42 SE you will perform service work in no time at all and you will adapt even complex vehicle systems in just a few steps.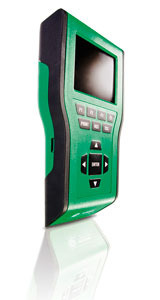 Scope of functions:
Reading/interpreting/deleting fault codes
Parameters
Actuator tests
Basic settings (e.g. steering-angle sensors, xenon light, deleting learned values)
Codings (e.g. unlocking the trailer hitch, learning ECUs, version codings etc.)
Service resets
Survey of Applications
Clear vehicle identification through VIN
Fault code explanation with detailed information
Reliable fault analysis
Additional information on the fault code with function, effects and reasons
Numerical and graphic parameter depiction
Easy operation with few buttons
No tricky extra functions
Quick release battery pack
Bluetooth adapter for a wireless connection with the vehicle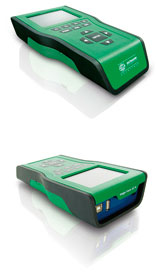 Technical Data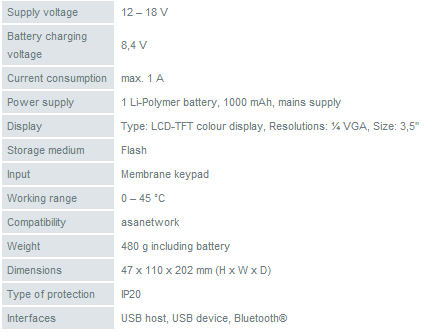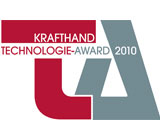 Delivery contents
Mega Macs 42 SE, DT VCI (for wireless communication to the vehicle), Bluetooth® adapter, USB cable 1.8 m micro, USB interface cable macs 42, quick-start guide, mains supply and country-specific mains lead, user manual on CD, shipping carton
Optional accessories
Docking station, quick release battery pack, vehicle charging cable, vehicle adapter, equipment case.
Pricing/Availability
German Automotive Tools offers a 10% cash discount on Mega Macs purchases, or 36 month, 0% interest financing.  Contact us to learn more about our affordable options.